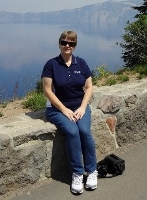 Hi! My name is Nancy Aud. I am a wife, mother of 6 and grandmother of 9. I am also a computer programmer, a motorcycle rider and a full-time RVer.
I started my programming career in 1994 out of pure necessity. I got tired of doing things manually, therefore I learned how to start automating processes in my job. 20 years later, I develop solutions full-time.
In July of 2011, my husband and I decided to take off in a travel trailer and see the country. We started in San Diego, California and headed north up the coast all the way to Vancouver, Canada. We have been as far south east as Florida and many states in between. One of the most interesting times was my first Mardi Gras in New Orleans. We also love to cruise. We have been to Hawaii, Mexico, San Juan Puerto Rico, Grand Turks, St. Thomas, St. Marteen, Jaimaca, Belize, Grand Cayman, and Honduras. Click on the map to see my travel blog.